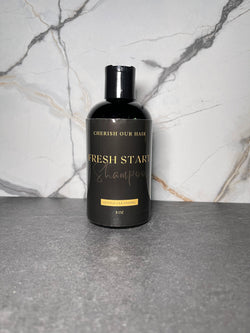 Lamour Hair
Fresh Start Shampoo
FRESH START IS A NEW BEGINNING FOR YOUR HAIR, FREE FROM BUILDUP AND IMPURITIES. LEAVING IT FEELING REFRESHED AND REVITALIZED.

HOW TO USE: 
Rinse all product out of hair with lukewarm water. Apply shampoo to hands rub together, start with your roots to end begin massaging hair clean. do not overly tangle hair. Rinse and repeat if necessary.
Shelf life:12 months 
Can children use this product? Yes, as long as there are no allergies.
INGREDIENTS:
Aloe Vera Juice, Rice bran Oil (Rich in Vitamin), Organic Sunflower Oil, Organic Hemp, Organic Jojoba, Extra Virgin Olive Oil, Grapeseed Oil, Soybean Oil (NON-GMO), d'Alpha Vitamin E Oil, Cedarwood Essential Oil, Chamomile Extract, Ginger Root Extract, Stinging Nettle Extract, Rosemary Essential Oil, Rosemary Extract, Thyme Extract, Lavender Essential Oil,  Lecithin, Peppermint Essential Oil, Tea Tree Essential Oil, Saw Palmetto, Pumpkin Seed Oil, Neem Oil, Cocomidopropyl Betaine, Decyl Glucoside, Sodium Lauroyl Lactylate, dl-Panthenol (Vitamin B), Polyquart 10, Kosher Vegetable Glycerin, Ethylhexylglycerin & Phenoxyethanol.