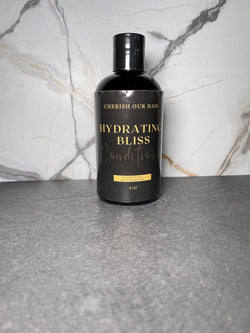 Lamour Hair
Hydrating Bliss Conditioner
THIS CONDITIONER PROVIDES HYDRATION AND NOURISHMENT TO DRY DAMAGED HAIR. WITH A BLEND OF NATURAL INGREDIENTS SUCH AS MANGO BUTTER AND COCONUT OIL WHICH WORK TOGETHER TO HYDRATE THE HAIR. ITS LIGHTWEIGHT TEXTURE MAKES IT POPULAR CHOICE FOR THOSE WHO WEAR STRAIGHT STYLES. 

HOW TO USE:
Apply conditioner to clean hair massage in hair, also great for detangling. Leave Conditioner on hair for 5 minutes. Rise and Style as usual. 
Shelf life:
12 months 
Can children use this product? Yes, as long as there are no allergies.
INGREDIENTS
Aqua (Distilled Water), Aloe Barbadensis (Aloe Vera) Juice, Mango Butter*, Dimethicone, Cocos Nucifera (Coconut) Oil*, Olea Europaea (Olive) Oil, Panthenol (Pro Vitamin B5), Hydrolyzed Wheat Protein, Mentha Piperita (Peppermint) Oil*, Melaleuca Alternitolia (Tea Tree) Oil*, Phenoxyethanol, Ethylhexylglycerin, Cetyl Alcohol, Cetrimonium Chloride, Stearyl Alcohol.