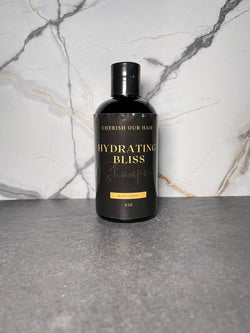 Lamour Hair
Hydrating Bliss Shampoo
THIS SHAMPOO WILL PROVIDE A BLISSFUL EXPERIENCE OF HYDRATION FOR YOUR HAIR, LEAVING IT FEELING SOFT AND HYDRATED. 
HOW TO USE: 

Rinse all product out of hair with lukewarm water. Apply ample shampoo in hands and from roots out begin massaging hair clean. do not overly tangle hair. Rinse and repeat if necessary.
Shelf life:
12 months 
Can children use this product? Yes, as long as there are no allergies.
INGREDIENTS:

Aqua (Distilled Water), Aloe Barbadensis (Aloe Vera) Juice, Olea Europea (Olive) Oil*, Cocos Nucifera (Coconut) Oil*, Persia Americana (Avocado) Oil*, Xanthan Gum, Panthenol (Pro Vitamin B5), Polysorbate 20, Glycol Distearate, Mentha Piperita (Peppermint) Oil*, Melaleuca Alternitolia (Tea Tree) Oil*, Potassium Sorbate, Mica and Titanium Dioxide, Citric Acid, Phenoxyethanol, Cocamidopropyl Betaine, Sodium Lauroyl Sarcosinate, Cetrimonium Chloride, Amodimethicone, Sodium Cocoyl Glutamate, Decyl Glucoside, Polyquaternium-10, Sodium Cocoamphoacetate, Sodium Lauryl Glucose Carboxylate and Lauryl Glucoside.