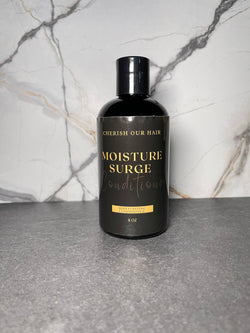 Lamour Hair
Moisture Surge Conditioner
THIS CONDITIONER IS DESIGNED TO PROVIDE INTENSE HYDRATION AND NOURISHMENT TO DRY, BRITTLE, OR DAMAGED HAIR. ITS FORMULATED WITH BLENDS OF NATURAL INGREDIENTS SUCH AS ALOE VERA, HEMP, JOJOBA AND STINGING NETTLE EXTRACT. WHICH ALL WORK TOGETHER TO INTENSELY HYDRATE AND STRENGTHEN THE HAIR. 
HOW TO USE:

Apply conditioner to clean hair massage in hair, also great for detangling. Leave Conditioner on hair for 5 minutes. Rise and Style as usual. 
Shelf life:
12 months 
Can children use this product? Yes, as long as there are no allergies.
INGREDIENTS:

Organic Aloe Vera Juice, Cedarwood Essential Oil, Chamomile Extract, Ginger Root Extract, Stinging Nettle Extract, Rosermary Essential Oil, Rosemary Extract, Thyme Extract, Lavender Essential Oil,  Lecithin, Peppermint Essential Oil, Tea Tree Essential Oil, Saw Palmetto, Pumpkin Seed Oil, Neem Oil, dL Panthenol, Behentrimonium Methosulfate (and) Cetearyl Alcohol (a fatty Acid - No an isopropyl drying alcohol), Emulsifying Wax NF, Kosher Vegetable Glycerin, Organic Sunflower Oil, Organic Hemp, Organic Jojoba, Extra Virgin Olive Oil, Grapeseed Oil, Soybean Oil (NON-GMO), d'Alpha Vitamin E Oil.